Athena MIS
More management with ZERO cost! How?


We've brought even more value to to your Athena MIS licence by creating our very own recruitment CRM, Athena eRecruit and best of all it's included in ALL our licence options, meaning it's absolutely FREE!
Athena eRecruit is designed to help you monitor and track engagement with employers, candidates, vacancies and once successful convert from candidate to learner with import directly into Athena MIS.
Now we've waved good-bye to non-levy procurement and the Register of Apprenticeship Training Providers (RoATP) is live again, the doors are wide open for you to grow your business and training provision, it's the perfect time to streamline your recruitment processes saving you time and money!
Growing your business doesn't mean you have to pay through the nose, check out some examples of our licence fees you can't afford not to!
There's no need to work harder, just smarter!


There's a lot of groundwork to cover before a candidate becomes a learner and how you organise employers, candidates and vacancies is complex and time consuming at best, especially if you're limited by using spreadsheets.
Implementing Athena eRecruit will help you to manage candidates for all your provision and not just apprenticeships, by helping you to monitor and track engagement with employers, candidates, vacancies and once successful, convert from candidate to learner with import directly into Athena MIS.
Athena eRecruit:
is fit for purpose
is fully integrated with Athena MIS
is available at no additional cost to you
saves time & money
track recuitment targets
real-time monitoring
streamlines processes.
Each learner type you have set up in Athena MIS is available in Athena eRecruit meaning every candidate is matched to a course, cohort and funding stream which is especially useful if you deliver ESFA funded training.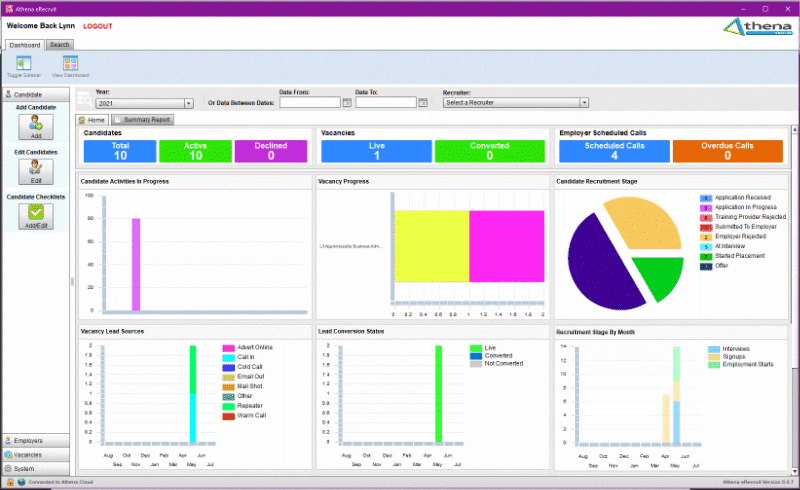 Having a familiar look and feel as Athena MIS means you'll be up and running in super quick time.
We've packed Athena eRecruit CRM with the tools you need to streamline processes, track progress and most of all providing the transparency and oversight needed for any growing business.
Each learner type you have set up in Athena MIS is available in Athena eRecruit meaning every candidate is matched to a course, cohort and funding stream which is especially useful if you deliver ESFA funded training.
Version 1.0 includes the following:
Home Dashboard
Graphs and charts for monitoring data:
Candidate - total, active, declined
Vacancies - live, converted
Employer - scheduled calls, overdue
Candidate Activities in Progress
Vacancy Progress
Candidate Recruitment Stage
Vacancy Lead Sources
Lead Conversion Status
Average Days to Conversion
Recruitment Stage by Month
System Settings - manage your data your way

Each business will have it's own ideas as to what constitutes activity types, lead sources amongst others so we'll let you set these up in the system settings, you can change these as and when needed. The dashboard graphs and charts are built on your needs.
Industry Sectors

Departments

Activity Types

Candidate Recruitment Stages

ePortfolio Categories

Lead Sources

Vacancy Courses

Visibility of Candidate Profile Tabs.
Summary Report Dashboard
Monitor and report on candidate progression and contact through the learning journey, filtered by recruiter, to monitor targets.
Candidate ePortfolio
When a candidate becomes a learner all required documentation stored in their profile is imported into their Athena ePortfolio.
This feature is currently being updated to reflect the new licence fees and services.
Please contact us on 01482 379540 or This email address is being protected from spambots. You need JavaScript enabled to view it. if you need any help.
Proving Your Capability to Deliver Online Training!


Having the ability to deliver blended learning is very much a necessity, especially coming out of our third Covid 19 lockdown and in light of the latest ESFA's AEB procurement. "Providers will need to be demonstrate a track record and ability to deliver online." FE Week

We've released phase one of our eLearning suite of tools with the aim to support training providers with the transition to a blended learning approach to deliver training, upskilling existing staff and to make the change as inexpensive as possible.
Using our tools to convert your existing learning resources into workbooks to be completed online via Athena ePortfolio and tracked, IQA'd within Athena MIS puts an end to having a fragmented approach to online learning, completely resolving the need for multiple systems for you to seemlessly deliver your learning from ALL of your awarding organisations.
Check out our In Development page for updates on our eLearning project!
Using one system for your data management, ePortfiolio, IQA and online workbooks will improve on efficiency, productivity and most of all save you lots of time and money!
A Truly Integrated Solution!


The eLearning workbooks created are available in each learner profile, from adult skills to apprenticeships and are created using the new Athena eLearning Creation tool. (See Tools tab.)
Monitoring your learners' progress has never been so easy especially as workbooks are completed online inside Athena ePortfolio, provider monitoring takes place in Athena MIS with assessors /tutors receiving notification of learner interaction, giving and receiving feedback on responses which makes for a truly accessible system available any time from anywhere that has an internet connection!
Watch the video to see just how easy it is to assign a digital workbook for learner access, track progression, provide feedback and map to outcome criteria!
Want a test drive? Get in touch for access to our demo site!
View the video full screen to see Athena MIS in detail.
Workbook Access in Athena ePortfolio


Up to the time the pandemic hit using your paper based documents was pretty perfect right? Now you've got to find a solution which won't have a dramatic and negative impact on your staff, learners or bank balance!
Two of the most difficult aspects of working remotely is that many learners don't have the appropriate software to access the documents you supply and then having to wait to receive the documents back before you can monitor progress.
Our solution is to recreate your paperbased workbooks into digital versions by using our simple to use Athena eLearning Creator software and to be completed online in Athena ePortfolio.
The choice is yours, create them yourself using our easy to use software or we can build, publish and assign them for you.
There's no limit to the number of workbooks, courses or training materials you can build and deliver through Athena ePortfolio.
View the video full screen to see the workbook in detail.
Athena eLearning Creator


The Athena eLearning Creator desktop application is used in conjunction with Athena MIS and Athena ePortfolio, it's not a stand alone application (yet!).
The functionality in this first version includes:
Multi page workbooks
Template pages
Publish to Athena MIS - monitoring, IQA etc.
Learner complation in Athena ePortfolio.
Workbooks include he following elements:
Images
YouTube video links
Audio files
Paragraph text
Resonse text fields.
Future releases will include:
Export to PDF
Surveys & Quizes
Digital signatures.
View the video full screen to see the workbook in detail.
To access Athena eLearning you need an Enterprise licence.

| | |
| --- | --- |
| Cyber Essentials | Cyber Essentials Plus |
| IASME Governance | IASME Governance - Gold Award |
| | |
| GASQ GDPR Foundation | GASQ GDPR Practitioner |
| ICO Data Protection | |
EQA Management Tools.
To access the web based EQA application you must be subscribed to Athena ePortfolio, it's needed so that the uploaded and mapped evidence can be evaluated by your EQA.
Providing remote access to the EQA application from the unique url assigned to your organisation is much more convenient for your awarding organisations, saving you time and money too!
From within
Athena MIS
you create an EQA user account for each representative of your awarding organisations.

It's then a simple process to assign ONLY the required learners to the EQA for viewing and once the EQA process is complete access to the learners can be removed for data protection purposes.

No more tracking down evidence, zipping files, emailing back and forth! Another process streamlined!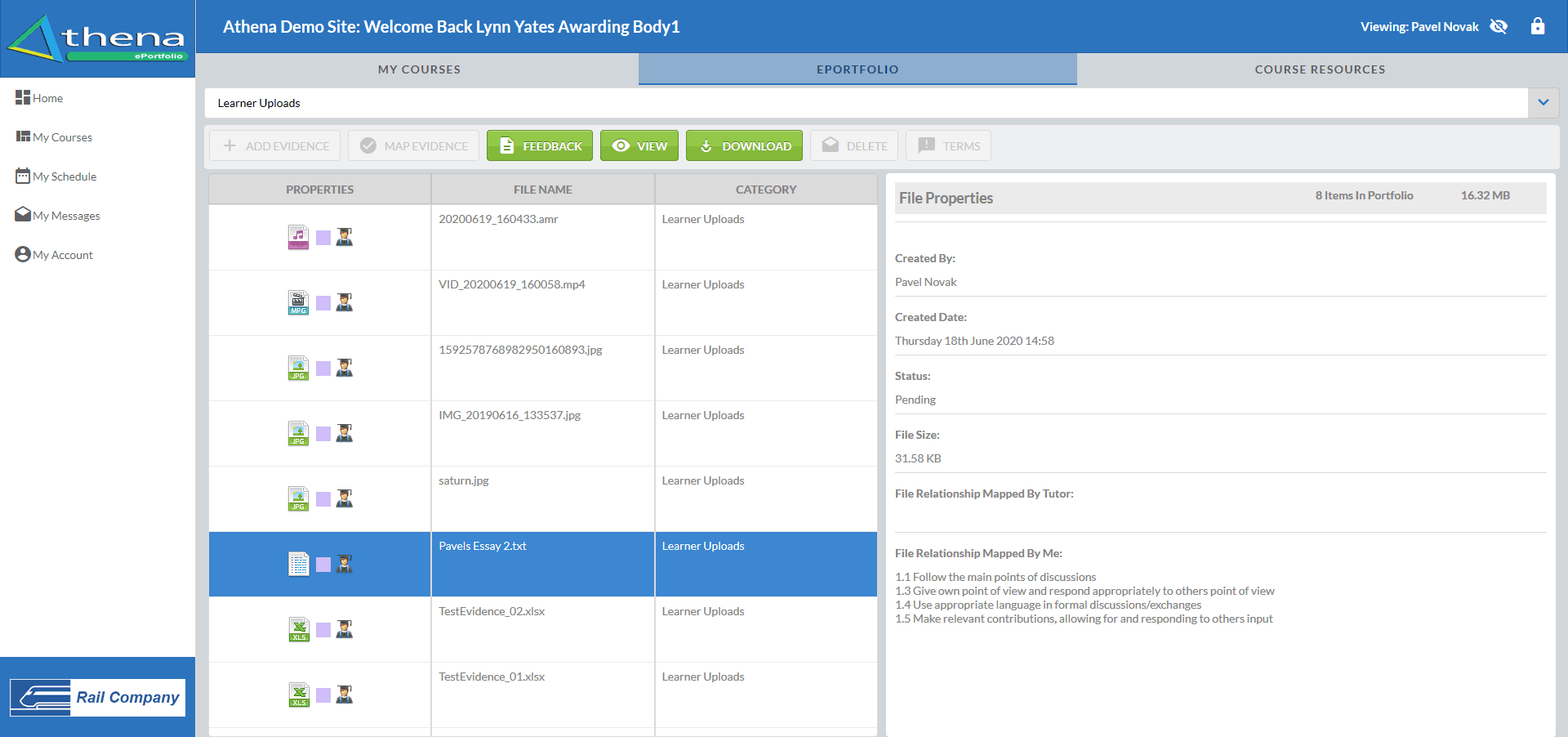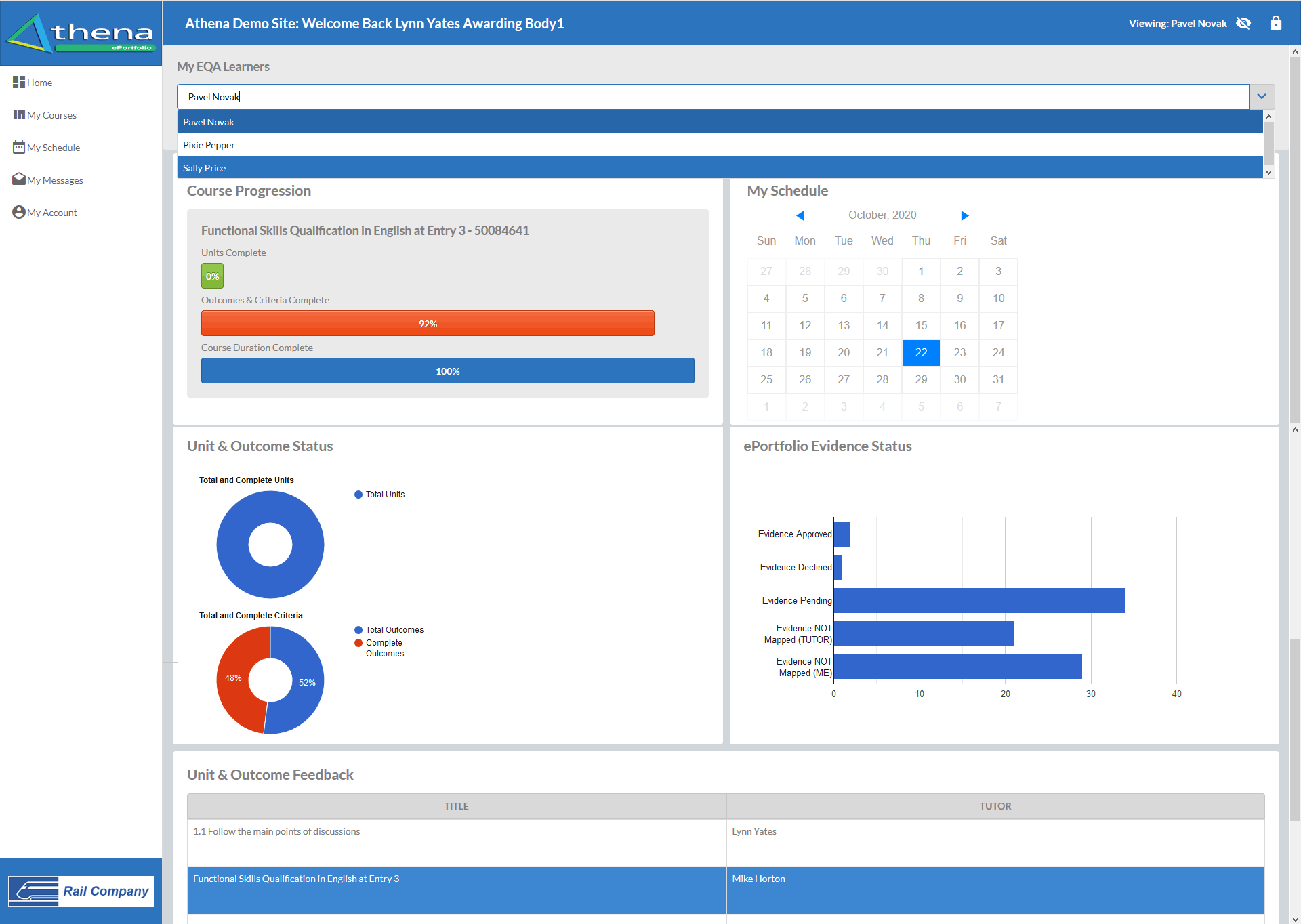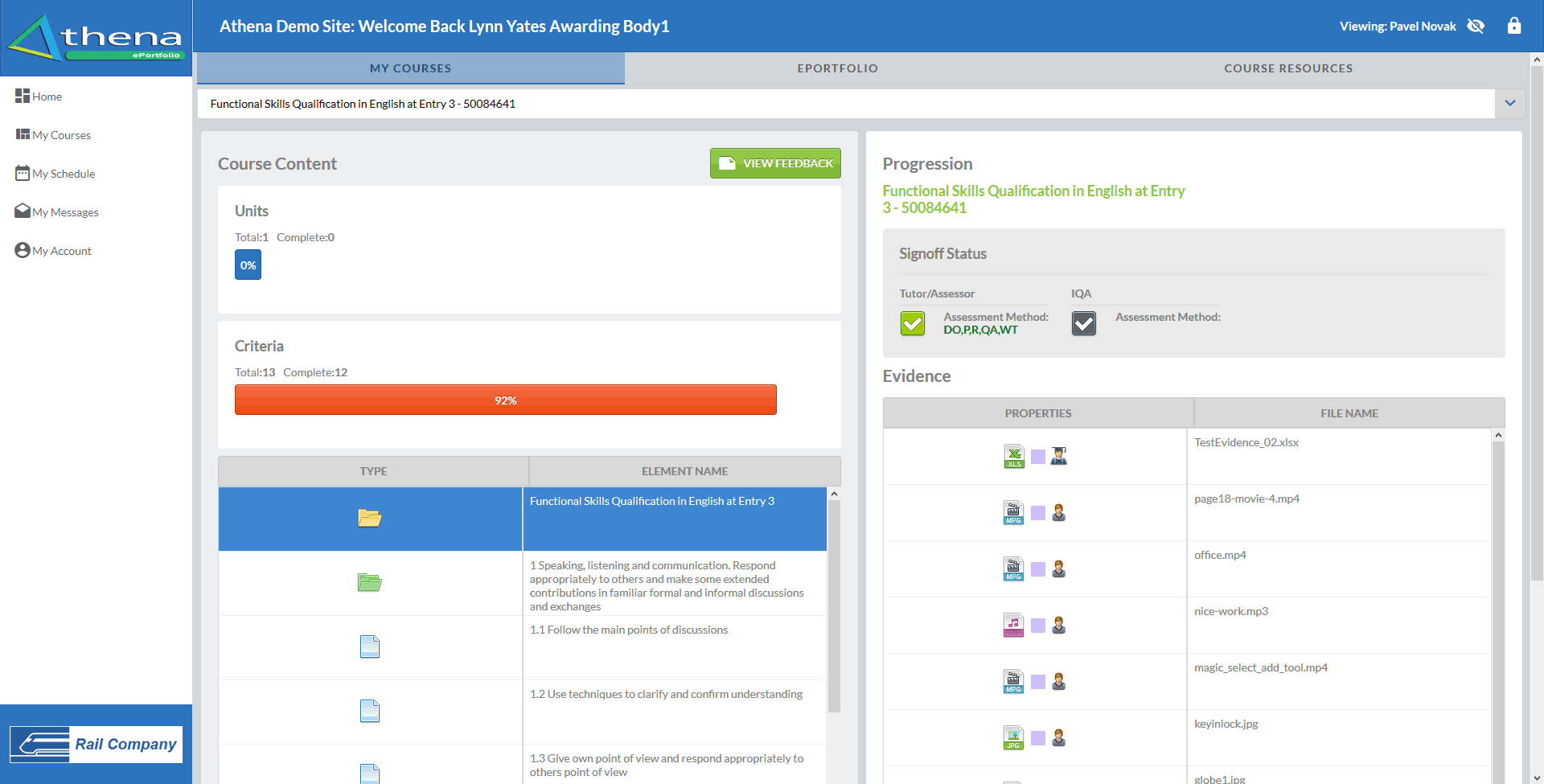 Welcome to Athena ePortfolio Download!
Athena ePortfolio is a software application for learners to upload evidence, monitor progression and communicate with assessors.
Before you can start using Athena ePortfolio you will need the following information from your training provider:
User name
Password
Licence key.


---
Download Athena ePortfolio by following the instructions below:
Step 1: Download and Install Athena ePortfolio from the appropriate link below.
NOTE: If you have difficulty downloading the exe installer file it may be blocked by your virus protection software.
You can download it as a zip file by clicking the Setup ZIP file link above.
You will need to extract the file before installation.
Step 2: Launch Athena ePortfolio Setup file and follow the instructions.
Step 3: Input your Product Key and you are ready to use Athena ePortfolio.
---
Athena ePortfolio is designed to run on:


Microsoft Windows 10.
Microsoft Windows 8.
Microsoft Windows 7.
Download Athena ePortfolio user guide:

---
The video below shows a brief overview of Athena ePortfolio version 1.0 and is best viewed at full screen size.
Switching Up?

If you've been a lead provider for a while but are thinking of moving away from the ESFA's Learner Entry tool (LET) you'll no doubt be thinking in terms of getting a return on your investment, afterall the LET is FREE, isn't it?
The LET may not have a licence fee and as you'll know comes with many constraints and known issues, so while using it have you had the time to think about just how cost effective it really is in terms of all the limitations it puts on your business?
Is your ILR error free and up to date?
Do you recieve all the payments you expect?
Do you know if the problems you have will trigger an ESFA funding audit?
If you've answered NO to any of the above then it's probably time to conside switching up to an MI system, especially when you consider all the additional benefits such as:
fewer errors on ILR leading to

more payments




a major step forward in terms of Ofsted requirements




ability to grow existing provision and bid for more contracts

promoting business transparency, no one 'left in the dark'

providing accurate QAR data


ESFA funding rule compliance prevents contracts being revoked, funding clawback and potential business closure

.
QAR Import and Reconcilliation


Making sure your ILR returns are accurate and timely is paramount as failing to resolve data issues by R14 can have drastic implications to your Qualification Achievement Rate (QAR). Your published QAR is the data that Ofsted use during inspections and the ESFA will withdraw furture contracts if your sucess rates fall below the minimum standards.
Feedback from our clients has shown that navigating the mine field of Qualification Achievement Rates causes great frustration and stress, with this in mind and in a bid to offer further support we have released phase 1 of our QAR Reporting Dashboard.
Yes, the QAR data is available in the View Your Education Data portal but the difficuly lies in reconcilling the information in the QAR against the data you're working with and submitting in your ILR.
Import your ESFA published QAR's into Athena MIS compare learners who are included, excluded or simply missing from the QAR data so you can fix any issues prior to the next submission.
The QAR dashboard also gives you indepth real-time data reporting on your achievement rates across many filters including; courses, learner type, ethnicity and hybrid end year along with centres and regions if you have these switched on in your system settings.
Exporting your data is simple, just click the Export to Excel button!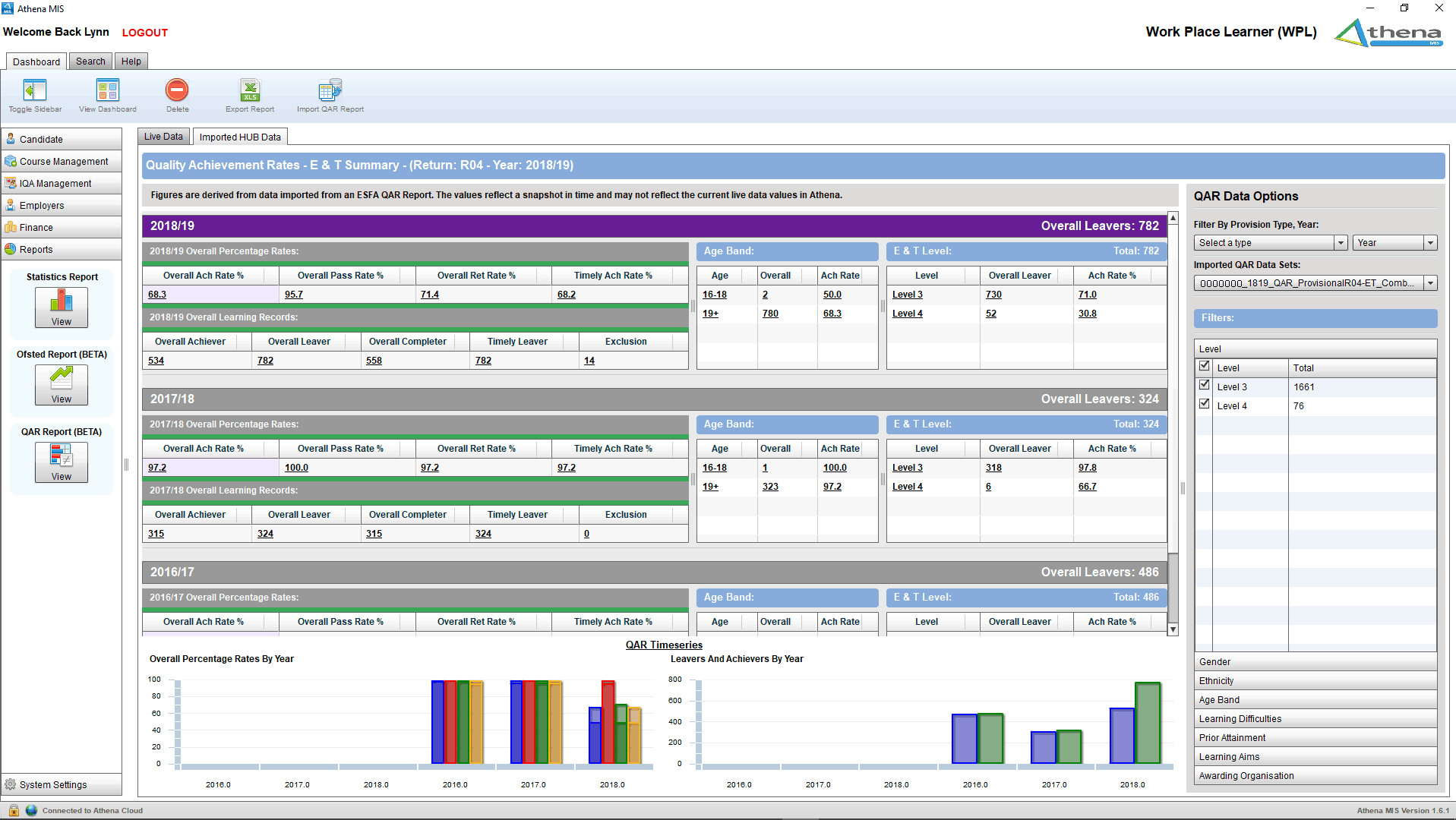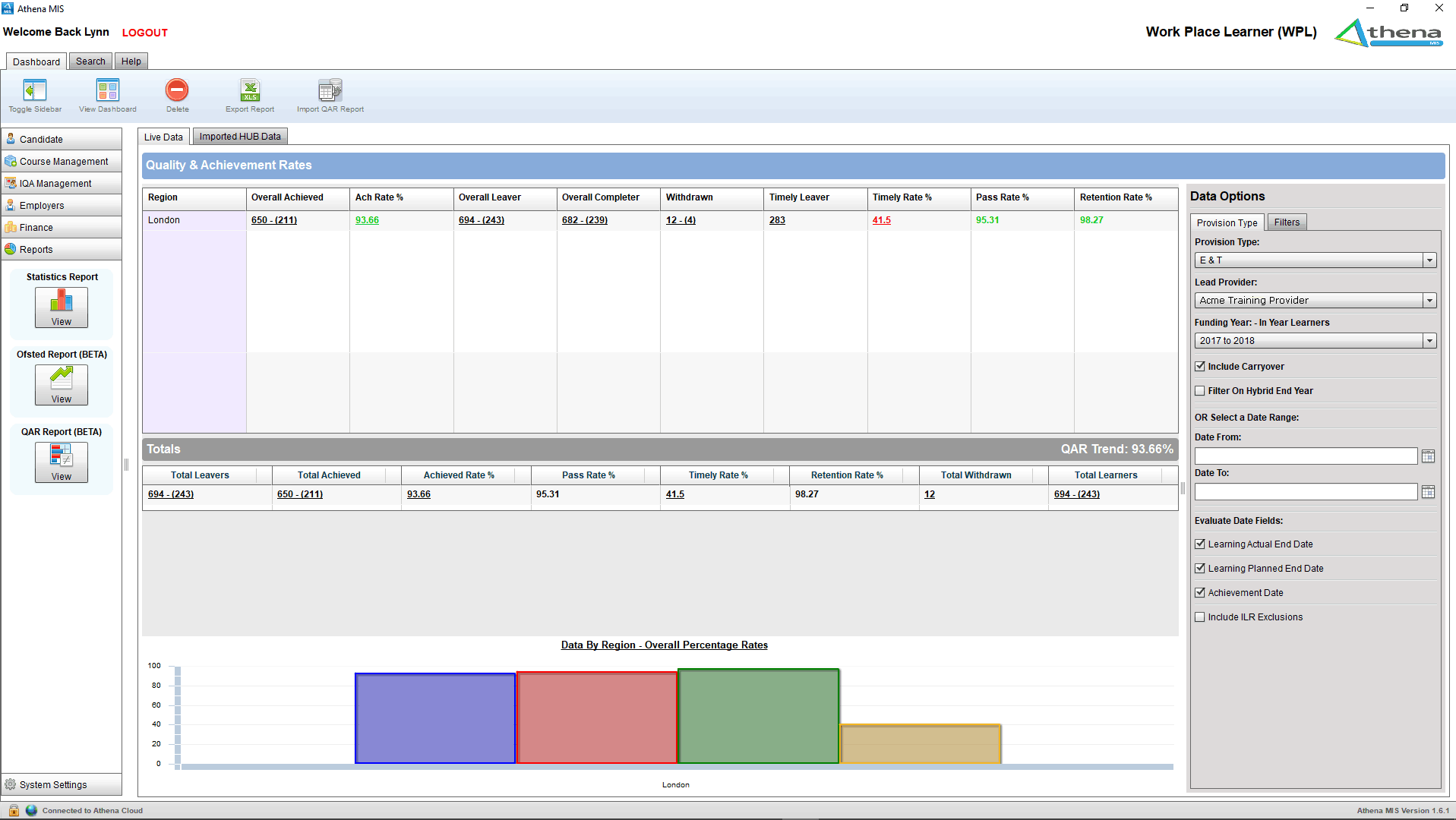 Planning for Inspection


Having real time data at your fingertips instills confidence when it comes to those stressfull Ofsted visits. Knowing how to pull reports to interrogate data on a regular basis will make for an easy task when notified for inspection:

"As soon as the provider has been notified of the inspection, staff should draw together the information in paragraph 61. These should be working documents and not prepared specifically for the inspection. Inspectors should keep the review of documentation to a minimum. Providers are not expected to prepare anything extra for inspectors."
Further education and skills inspection handbook Page 18

The following is a portion of the data requirements listed in the inspection handbook:
details of the courses/programmes being delivered and their mode of delivery


the geographical spread of training premises and learners, particularly work-based learners and apprentices, according to regions or sub-regions


the current number of learners in the following age groups: 14 to 16; 16 to 18; 19+


the current overall number of learners (excluding apprentices) at level 1 or below, level 2, level 3 and level 4/5, by subject area


the current number of intermediate, advanced and higher-level apprentices, according to age groups: 16 to 18, 19 to 24, and 25+, by subject area and by apprenticeship framework or standard


the current number of learners following employability programmes and those who have attended in the previous 12 months


details of learners who are on a study programme but who are not working towards a substantial qualification


the current number of learners following traineeships and those who have attended in the previous 12 months


the current number of learners on community learning programmes and those who have attended in the previous 12 months


the current number of learners with SEND and the number of learners for whom high-needs funding is received, and their particular needs.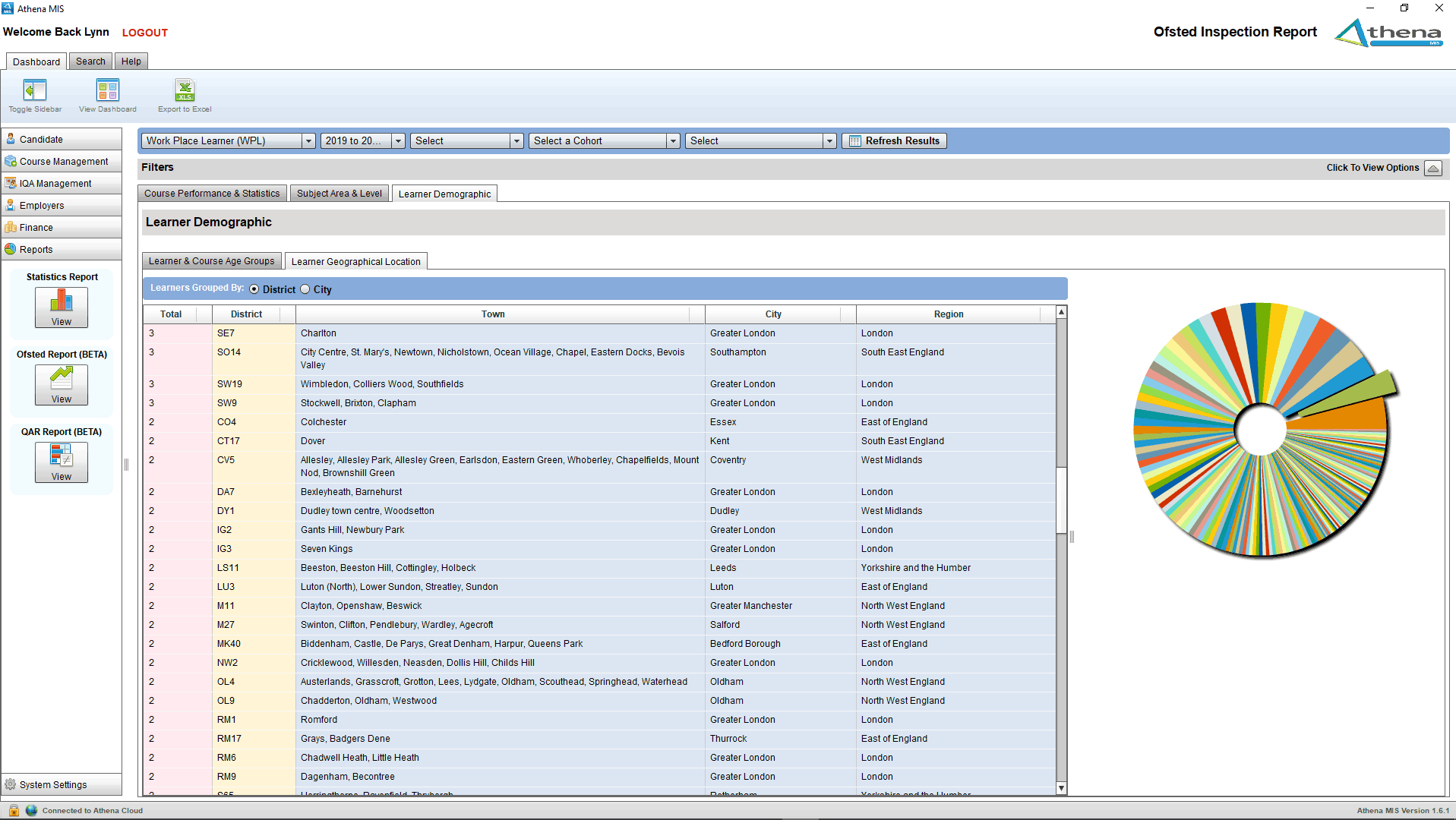 Statistics Reports


The beauty of using a management system to track your provision means you should be able to perform a quick and easy dive into the data you hold, within seconds, to pull reports on everything from age groups, ethnicity, health and learning difficulties, prior attainment to destination and progression! Do bear in mind though that you only get out what you put in!
Data can be filtered by:
learner type
funding year
region
lead provider
cohort.
Learner status filter:
All,
On Programme
Withdrawn
On Learning Break
Complete
No Show.
Athena MIS has built in statistics reports in the following areas:
General - Course & Candidate Age Relationship, Age, Ethnicity, Gender, Learning Difficulties, Disability, Prior Attainment Levels, Status Prior to Course, Literacy Outcomes, Numeracy Outcomes and ICT Outcomes.


Functional Skills - Functional Skills Results, Sessions Due, Attempt Count and Progress Result.


Destination & Progression- Destination by Outcome, Destination by Ethnicity, Destination by Age, Destination by Gender, Progression to Higher Course.


Finance - Payments Outstanding, Payments Received and Payments Dues This Month.
All data can be exported to a spread sheet by clicking the Export to Excel button!